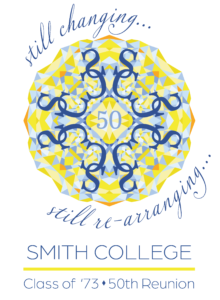 50th Reunion May 25-28, 2023
REUNION REGISTRATION closes May 11.
50th REUNION DIGITAL CLASS BOOK: Please take some time to finish your personal pages. The kaleidoscope of our unique voices is appearing in the wonderful photos, videos, and stories—both heartwarming and heartbreaking, both inspirational and sobering. The book will close to submissions and editing two weeks after reunion, June 11.
JUST LAUNCHED!!: Smith College Reunion Program app—your one-stop shop for the College and Classes Reunion schedule, speaker information, FAQ and more. Download from either the Google Play Store or the Apple Store.
JUST ANNOUNCED!!
Small Group Walking Tour is FULL!! Class of 1973 small group campus walking tour limited to 20, first-come-first-served, free, Friday, May 26, 4-5pm, "Champion Trees & Changing Landscapes on the Smith College Campus," led by Tim Johnson, Director of Botanic Garden, and John Berryhill, Landscape Curator.
CLASS PHOTO: Right after Alumnae Parade and AASC meeting and before the buffet lunch in Chapin Lawn tent, hustle over to the amphitheater behind Neilson Library for a Class of 1973 50th Reunion photo in our parade whites with our parade signs.
Have you written a book? Have a CD recording? Have a business card? In order to include and honor these classmate accomplishments, there will be display space in our King House HQ living room for you to share those items.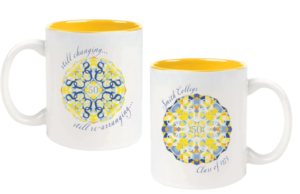 Swag Sneak Preview: Reunion attendees will get snazzy hats to wear and logo tote bags to carry in Saturday morning's Alumnae Parade. You will also get a sweet kaleidoscope coloring book with markers and a fabulous double-sided logo coffee mug. If we have any extra swag items and you can't come to reunion but would like any of them, you will be able to purchase the extras (if there are any): $10 cash per item. Just get a friend with cash to pick them up for you at HQ in King House.
Not coming to reunion? Two virtual livestream opportunities:
Friday, May 26, 10:15am "Smith Today: A Conversation with President Kathy McCartney. This event will be streamed live to Facebook. No account is required to watch.
Saturday, May 27, 2:45: "Class of 1973 50th Reunion Class Survey Analysis and Presentation" This event will be streamed live on Zoom. No registration is required.
Who is coming from the class of 1973? Find out here.
Who is joining us? Better bring your Kleenex. We will have the honor and the thrill of marching in Saturday's Alumnae Parade with the oldest and the youngest alums coming to reunion: 1943 (80th), 1948 (75th), 1953 (70th), 1958 (65th), 1973 (50th Milestone), 1978 (45th), 1988 (35th Milestone), 1993 (30th), 2008 (15th), 2018 (5th), Diploma in American/Interdisciplinary Studies (60th Anniversary Reunion of the Program)
Packing tips: Check the weather before you travel. Pack layers. Be sure to bring your Alumnae Parade whites and a water bottle, or plan to buy one at the Smith Bookstore at its new location at the top of Green Street. (There are refillable filtered H2O stations around campus and in some houses.)
COVID Policy: Un-vaccinated alums will not be able to attend reunion per Smith's current, on-campus event guidelines. You will be required to show proof of one vaccination and one booster when you check in on campus. Masks are optional, and you will need to bring your own.
Housing & Meals – Click here.
Frequently Asked Questions: Click here for information about Parking, Transportation, and Miscellaneous. Shuttles will be available between the Quad and main campus.
JOIN our private Class of 1973 Facebook group here for more reunion information, fun postings, and Smith memories.
Click here for the May 25 – 28, 2023 Current Smith College Reunion Weekend II Schedule (Class of 1973 programming in yellow)
REUNION TEAM
Reunion Co-Chairs: Margie Hunt and Jess Tava
Program: Anne Pidano and Jean Godsall-Myers
Headquarters/Welcome: Ann Gibson, Carol Russell Collier, Nancy Floreen, Harriet Diamond
House Connector Chair: Wendy Kassel
Parade: Beverly Towns Williams
Class Survey: Debbie Ferro Burke and Diane Okrent
Swag: Anne Pidano and Elisa Franklin
In Memoriam: Mary Sneed Hinkel
50th Reunion Class Book Team
Jess Tava and Margie Hunt, Editors
Kathy Harhai
Mary Sneed Hinkel
Wendy Kassel
Shirley Kooyman
Mary Ann Lentz
Wendy Lindquist
Virginia Miller
Lolly Mixter
Anne Pidano
Janny Colt Wang
House Connectors Team
Capen House Gigi Pakradooni
Chapin House Comfort Halsey
Chase and Duckett Jess Tava
Comstock House Greta Solomon
Cushing House Betsy McGrath
Cutter House Carol Hafer
Emerson House Lindsay Lang
Gigi Benjamin
Laurel Huber
Gillett Wendy Kassel
Haven House Sandy Pierce
Hopkins House, A, B Karna Bouton
Hubbard House Penny Hammer
Jordan House Shelley Evans
King House Cheryl Cipro
Lamont House Debbie Burke
Lawrence House Dee Phillips
Morris House Mindy Kirby
Off Campus Ann Price
Park House Dorothy Chansky
Talbot House Mary Ann Jones
Trish Tidwell
Margie Lord
Tenney House Francie Newcomb
Tyler House Jean Godsall-Myers
Janice Abbot Horowitz
Wilson House Ann Price