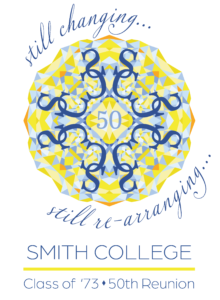 50th Reunion May 25-28, 2023
REGISTRATION IS OPEN! – If you have an email contact in The Smith Network, you should have received reunion registration information from the College, including housing and meal options. If you did not receive it, you can register for reunion online at https://www.smith.edu/about-smith/alum/reunion
OUR 50TH REUNION EXPERIENCE
Because we are such a large class and hoping to set a 50th Reunion attendance record and because we want to be housed together, the College has created a dining and housing "neighborhood" for us in and around the Quad. A large tent will be put up in the Quad for our Friday and Saturday dinners and for our 1973 In Memoriam Service to be held on Sunday morning. For our convenience, shuttles will be available between the Quad and main campus.
Throughout the weekend, classmates can relax under our 50th Reunion tent and in Quad living rooms, catch up and share stories, explore the new Neilson Library and the Smith College Art Museum, tour the renovated Alumnae House, enjoy quiet time walking along Paradise Pond, wander through the Botanic Garden greenhouses, attend College and class programming options, check out downtown Northampton. And more…! Not to forget the Alumnae Parade on Saturday morning and Illumination Night followed by a rocking dance party Saturday night!
HOUSING – College offers housing in college houses as a three-night BnB package, Thursday 4:00pm arrival to Sunday 11:00am departure. The package includes one bed in a room (bed linens/washcloth/small towel) with Friday through Sunday buffet breakfast. If you are bringing a partner, you can request either a second room or a two-bed room (limited availability). You will pay for a second BnB package for a partner, but children can stay in your room with a sleeping bag (no bed) and eat breakfast without paying the BnB package.
MEALS – Breakfast included with housing. Sign up for lunches and dinners for additional per meal fee. Smith Dining Services is doing a splendid job accommodating various diets—GF, diary-free, vegetarian, vegan, etc. Friday and Saturday dinner menu choices will be available when you register.
COLLEGE & CLASS SCHEDULES – Planning is in the works by the College and by your 50th Reunion Team for programming, Alumnae Parade signs, swag, 50th Reunion Social Hour with President Kathy McCartney, our Class of 1973 In Memoriam Service on Sunday, and more. Stay tuned…!
REUNION REGISTRATION STIPEND – Our hope is that as many classmates as possible can return to campus to celebrate our 50th. Some stipend assistance is available to cover on-campus reunion fees. Go to the Contact page on this class website to let us know if you or a fellow classmate might require assistance.
COVID POLICY UPDATE – At this time, un-vaccinated alums will not be able to attend reunion per Smith's current, on-campus event guidelines. You will be required to show proof of one vaccination and one booster when you check in on campus. While masks are optional, you will need to bring your own masks.
50th REUNION CLASS BOOK – Smith gives 50th Reunion classes a stipend to produce a 50th Reunion class book. Traditionally, each classmate has been asked to write a 500-word personal essay on what life after Smith has been like, and the book has been completed by March and mailed to each classmate. But the Class of 1973 is breaking new ground with a digital class book. Each classmate will create a personal page in the book by responding to a few short prompts followed by a longer prompt to make sharing our stories since Smith easy and fun. In addition, there are options for submitting up to five photographs and one video. While the digital book will close on June 30 after reunion, it will be available online via email passwords in perpetuity. Classmates will be contacted after reunion to see if they would like a printed copy.
50TH REUNION CLASS BOOK TIMING – By the end of March, you will be invited via email to create your page. Your email will be your password, SOOOOoooo, please be sure your contact information is updated via the Smith Network.
CLASS SURVEY – The Debbie Burke and Diane Okrent class survey will arrive in your email inboxes in early April. Debbie and Diane have conducted a class survey for each reunion, starting with our 35th. Adding the results of this 50th Reunion survey to the last three reunion surveys will enable them to present a twenty-year arc in the "life of the Class of 1973." Who have we been, who are we now, and how do we fit into the major historical moments/trends of the last twenty years?
In addition to the issues they have been tracking since our 35th reunion, Debbie and Diane want to know what's hot and current for you, what occupies your mind and your heart now, what you are interested in, intrigued by or curious about. As usual they will present findings at reunion. This year they will also offer some small group Zoom sessions for deeper discussion during the week after reunion. Stay tuned for details.
WHY NOT join our private Class Facebook group so you can have fun reading postings about reunion? https://www.facebook.com/groups/1720043658316456
REUNION TEAM
Reunion Co-Chairs: Margie Hunt and Jess Tava
Class President: Peggy Smith
Program: Anne Pidano and Jean Godsall-Myers
Headquarters/Welcome: Nancy Floreen, organizer of class HQ volunteers
Head of House Reps: Wendy Kassel
Parade: Beverly Towns Williams
Class Survey: Debbie Ferro Burke and Diane Okrent
Swag: Anne Pidano and Elisa Franklin
In Memoriam: Mary Sneed Hinkel
50th Reunion Class Book Team
Jess Tava and Margie Hunt, Editors
Kathy Harhai
Mary Sneed Hinkel
Wendy Kassel
Shirley Kooyman
Mary Ann Lentz
Wendy Lindquist
Virginia Miller
Lolly Mixter
Anne Pidano
Janny Colt Wang
House Representatives Team
Capen House Gigi Pakradooni
Chapin House Comfort Halsey
Chase and Duckett Jessica Tava
Comstock House Greta Solomon
Cushing House Betsy McGrath
Cutter House Carol Hafer
Emerson House Lindsay Lang
Gigi Benjamin
Laurel Huber
Gillett Wendy Kassel
Haven House Sandy Pierce
Hopkins House, A, B Karna Bouton
Hubbard House Penny Hammer
Jordan House Shelley Evans
King House Cheryl Cipro
Lamont House Debbie Burke
Lawrence House Dee Phillips
Morris House Mindy Kirby
Off Campus Ann Price
Park House Dorothy Chansky
Talbot House Mary Ann Jones
Trish Tidwell
Margie Lord
Tenney House Francie Newcomb
Tyler House Jean Godsall-Myers
Janice Abbot Horowitz
Wilson House Ann Price