It is 22 degrees today in February in Virginia but you will be reading this when it will be warm wherever you are…come on spring! I'm looking forward to another meeting with our 50th Reunion Class Book committee on Saturday to refine the plans for this very exciting project. We may all be experiencing 'Zoom fatigue' after two years of on-screen meetings, but it does make planning meetings accessible for all of us scattered from Connecticut to Hawaii.
I am sorry to share the news of the death of Marritje Van Arsdale Green in January. Marritje lived in both Wilder and Northrop Houses at Smith.
Margaret Cooper Pollock is a new author. Her book, Polar Peril, is a contemporary fantasy adventure in which two Mohawk children go to the Arctic to help save the polar bears in the face of global warming. She wrote the book for middle-schoolers but notes that more adults than kids have read it and reacted with great enthusiasm.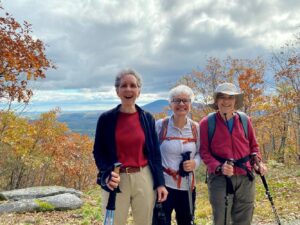 Joan Kent Souder, Margaret (Kiki) Murray Schneider, and Constance Parrish met in October for a weekend of hiking at Kiki's house in Sunapee, NH. The three friends have been celebrating their Scorpio birthdays together for 52 years, since their freshman year in Parsons House, and are looking forward to seeing everyone at our 50th Reunion.
Sandra (Sandy) Pierce and her wife left Denver in 2020 to escape the noise and pollution that has changed that wonderful city. They found a haven in Taos, NM but Sandy was unable to live comfortably at 7200 feet., so they moved to the Albuquerque area. Sandy's wife, a painter, has found a booming arts community in New Mexico and Sandy continues to pursue her piano studies with an excellent teacher. The two walk their dogs about 4 miles every day and have made friends with others "out on the trail". They have traveled the state extensively, exploring ancient Puebloan ruins and cultures of New Mexico, and invite us to their front row seat for the International Balloon Fiesta.
In 2020 at the beginning of the pandemic, Beverly Ruhe George retired from 22 years of teaching music in the public school system in Sumter, SC. She has adjusted to retirement by focusing on writing projects and caring for elderly relatives living locally. Her three children and two grandsons do not live nearby but keep in touch easily thanks to modern technology. Beverly is grateful for her Smith buddy, Linda (Lee) Howell, in Florida, and sends her best to us all. The Smith Club in Columbia, SC holds Zoom meetings which are lots of fun, as are her book club and a cooking class.
Virginia McCulloch Lau is thrilled to announce the July birth of grandchild Chase, who joins sister Sophia. Their parents Kenny and Whitney are busy working for Facebook and Kaiser Health, respectively. Ginny and Ron's younger son Jacob is a professor in Gender Studies at the University of North Carolina, Chapel Hill, and daughter Amy is an archivist with the New York Public Library. Ginny and Ron love being grandparents and read lots of children's literature, enjoy the playground, and are fans of Peppa Pig and Daniel Tiger.
Wendy Kassel works for NASDAQ on their trading platform and is so not ready to retire. She adopted to kittens in May and is the new treasurer of the Smith College Club of New York City. Wendy is heading up the House Representatives committee for our Reunion assisted by Wendy Lindquist and Patricia (Trish) Tidwell.
Mary Sneed Hinkel , new birdwatcher, is our Class Memorial Chair. Since retirement, Mary has become active in local politics in Atlanta.
Mary Ann Alexander Lentz lives in Hawaii and is new to the "job" of priest's wife. Her husband recently was ordained in the Episcopal Church. Mary Ann handles the live streaming of Church services.
Shirley Mah Kooyman "gave birth" to a sourdough starter in October 2020, and it is happily growing.
Anne Pidano teaches in a doctoral program in clinical psychology which was on Zoom until returning to the classroom last fall.
Janet Josephs Wang is retired from Microsoft and IBM and speaks to school groups about alcohol abuse and recovery. The format of her talks follows this path: "What we were like, What Happened to Us, and What we are like now" and she emphasizes that she tries to add some humor to a pretty dour subject.
Please keep sending your life milestones to me; your classmates want to know what is happening with you.